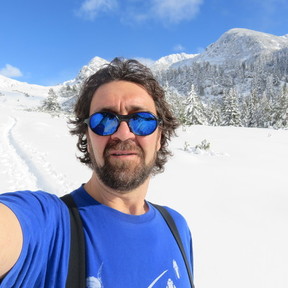 English version below
Notre agence de randonnée a plus de 20 ans d'expérience. Fondée par un guide de montagne et opérateur licencié, nous avons l'habitude de travailler avec des groupes francophones.
Nos randonnées se situent principalement dans les massifs des Balkans, Rila, Pirin et Rhodopes et les pays limitrophes.
Nous pouvons organiser des circuits de tout types en famille et/ou en liberté:
- à pied
- en VTT
- en kayak
- à raquettes
- en ski de randonnée
Nous privilégions la découverte authentique du pays: nature, culture, rencontres avec les habitants. Notre équipe est constituée d'accompagnateurs locaux diplômés (francophones, anglophones, germanophones).
Nous contacter pour tout renseignements et demande de documentation (langues étrangers parlées et écrites : français, russe).
English version
Our hiking agency has over 20 years of experience. Founded by a licensed mountain guide and operator, we are used to working with French-speaking groups.
Our hikes are mainly in the Balkans, Rila, Pirin and Rhodopes mountains and the neighboring countries.
We can organize circuits of all types with family and / or in freedom:
- walk
- by mountain bike
- by kayak
- snowshoeing
- in ski touring
We favor the authentic discovery of the country: nature, culture, meetings with the locals. Our team is made up of qualified local guides (French, English, German).
Contact us for any information and request for documentation (foreign languages spoken and written: French, Russian).
No followed people