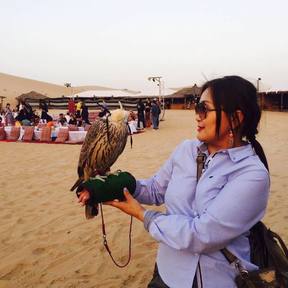 English version below
Chuka est la directrice de cette agence.
Elle a souhaité mettre à profit ses nombreuses expériences dans des projets à visées sociales ou environnementales en les alliant à son travail dans le tourisme, afin de développer des circuits plus respectueux de l'environnement et valorisant pour les éleveurs nomades.
C'est elle qui supervise l'itinéraire et l'organisation des circuits, forte de sa connaissance pointue du terrain et de ses nombreux contacts.
Souhaitant être au plus près des voyageurs et toujours parfaire les circuits, Chuka accompagne également des groupes sur différents séjours lorsque cela lui est possible.
Grâce à sa longue expérience avec des partenaires francophones et plusieurs mois de séjour en France, Chuka sait proposer des voyages qui répondent au plus près à vos envies et besoins.
English version
Chuka is the director of this agency.
She wanted to use her many experiences in social or environmental projects by combining them with her work in tourism, in order to develop circuits that are more respectful of the environment and rewarding for nomadic breeders.
It is she who oversees the route and the organization of the circuits, with her in-depth knowledge of the terrain and her many contacts.
Wishing to be as close as possible to travelers and always perfect the circuits, Chuka also accompanies groups on different stays when possible.
Thanks to its long experience, Chuka knows how to offer trips that meet your desires and needs as closely as possible.
No followed people